Don't wait, this offer wont last!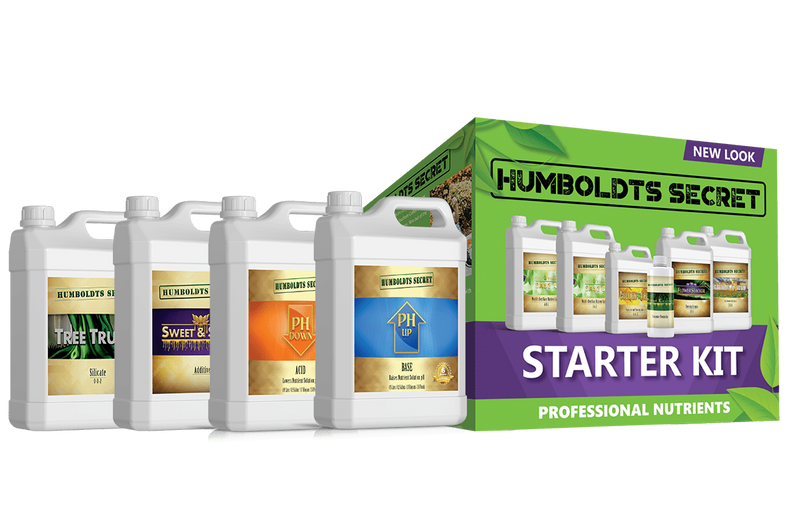 Purchase our Starter Kit, and we will upgrade you to the Starter Kit 2 for FREE! PLUS we'll throw in a 1/4 Gallon bottle of pH UP and DOWN!
Normally over $250+, this special offer is yours for only $99 for the next 24 hours!
All backed by our 6-Month Satisfaction Guarantee!
What makes our products awesome? 
Our Starter Kit comes with everything you need to begin your growing journey! Compatible in all grow mediums, this Starter Kit will make between 125-150 gallons of nutrient solution.
World's Best Base Nutrient System Grow & Bloom Base A and B (1/4 Gallon of Each)

Golden Tree (1/8 Gallon)

Flower Stacker (1/4 Gallon)

CalMag & Iron (1/4 Gallon)

​Plant Enzymes (8 Ounce)
Humboldts Secret "Grow & Bloom" is the world's best base nutrient system. It contains a signature blend of Nitrogen, Phosphorus, Potassium, Calcium, Magnesium, and more.
COMPLETE MACRONUTRIENT PROFILE FOR PLANT NUTRITION: The combination of our Base A & B Bundle results in a complete feed for rapidly growing flowering plants and indoor plants. Our signature blend consists of Nitrogen, Phosphorus, Potassium, Calcium, Magnesium.

EASY-TO-USE TWO-PART SYSTEM: Simply use both bottles at equal rates throughout the entire growing cycle, from the beginning of the vegetative stage until the end of the flowering stage. We recommend application with every watering for maximum results.

COMPATIBLE WITH ALL GROWING MEDIUMS: Our clean-running formula is suitable for all grow mediums, including potting soil for indoor plants, hydroponics, aquaponics, and coco coir cultivations.

​COMMERCIAL-GRADE AND GARDEN-FRIENDLY: Our two-part base system is both commercial-grade and garden-friendly, ensuring the optimal health of your plants and flowers. It's made from quality ingredients that are 100% water soluble and pH-balanced for ease of use.

​APPROPRIATE FOR ALL PLANT LIFE: Base nutrients are the building blocks of all plant life. Thousands of home and commercial growers use Humboldts Secret Grow & Bloom Base System. It works on all plants, trees, flowers, bushes, and lawns.
Golden Tree helps improve nutrient conditions for better crop yields, improves overall plant nutrition, encourages plant establishment, and aids in abiotic stress tolerance.
FOR ANY PLANT : Our Golden Tree formula is an all-in-one additive for any plant, tree, flower or bush. When used with a well-balanced fertilizer, Golden Tree helps improve soil/foliar nutrient conditions for better crop yields. In addition to improving overall plant nutrition, Golden Tree supports conditions for better plant establishment, nutrient uptake and abiotic stress tolerance.

GROW METHOD COMPATIBLE: No matter what grow method you're using, Humboldts Secret Golden Tree solution will help feed growing plants. It's designed to be compatible in all mediums - hydroponics, aeroponics, coco, DWC, soil, and every other type of growing method.

ESSENTIAL NUTRIENTS: Golden Tree can help provide essential nutrients to your garden that it isn't getting now. Our formula contains a mixture of kelp, carbs and minerals. It can be used in conjunction with other additives and fertilizers or as the only additive.

SMALL & STRONG: Our 16-ounce solution makes up to 224 gallons of an easy-to-use additive solution to feed your plants. This is a professional-quality fertilizer that can transform any home and garden and give anyone a green thumb!
Flower Stacker contains Phosphorus and Potassium, which is critical during the growth phase for better crop yields.
ADDED FLOWERING AGENT TO YOUR REGIME: Flowering boosters are particularly important in the hydroponic and agricultural industries. Thousands of growers use Flower Stacker as an additional flowering agent to maximize their yields by harnessing the power of our clean-running formula.

PREMIUM INGREDIENTS: Our Humboldts Secret Flower Stacker is made with quality ingredients to ensure the development of your flowers perfectly suited for potting soil for indoor plants!

CONTAINS VITAMIN B1: VitaminB1 has been touted as a cure-all for transplant shock. Labels typically claim that B1 supports conditions for better plant establishment and growth in a wide range of plants.

​HIGH AMOUNT OF PHOSPHORUS AND POTASSIUM: Application of phosphorus and potassium during the flower development phase improves soil/foliar nutrient conditions for better crop yields.

​INCREASE YIELDS: Flower Stacker is a flowering additive designed to help your plants natural ability to increase yield and flower density. It's an ideal nutrient solution for potting soil for indoor plants and outdoor plants.
CalMag & Iron contains an exact balance of calcium, magnesium and iron specifically formulated to address any deficiencies that could be encountered.
SOURCE OF CALCIUM MAGNESIUM & CHELATED IRON: Many varieties of flowering plants require higher levels of these micronutrients. Our well-balanced formula is designed to specifically address any plant deficiencies that may be present.

CORRECTS COMMON PLANT DEFICIENCIES: Sometimes an unhealthy plant may be suffering from a nutrient deficiency or even too much of one nutrient. Our CalMag & Iron supplement effectively corrects and remedies these micronutrient plant deficiencies.

NUTRIENT UPTAKE AND ABSORPTION: This formulae efficiently supports nutrient uptake and absorption by addressing any plant deficiencies in the first place, thus successfully supporting the vegetative and flowering stage of your plants.

SUITABLE FOR HYDROPONICS, SOIL, AND CONTAINER GARDENS: Nutrient systems and supplements are commonly used as hydroponic supplies and are a good solution for soil and container gardens, ensuring strong and healthy plants and yields

​OPTIMAL FOR COCO COIR MEDIUM AND REVERSE OSMOSIS WATER: Our supplemental CalMag & Iron by Humboldts Secret is highly recommended for plants growing in coco substrate or reverse osmosis water, as the absorption process becomes magnified.
Plant Enzymes is a highly concentrated enzymatic formula with a guaranteed content of 7,000 units/ml of active enzyme, making Plant Enzymes the strongest on the market!
CONTAINS 7000 UNITS OF ACTIVE ENZYME PER MILLILITER: Humboldts Secret Plant Enzymes is a highly concentrated enzymatic formula with 7,000 units/ml of active enzyme, making Plant Enzymes one of the strongest plant fertilizers on the market!

GREAT FOR HYDROPONICS AND COCO SUBSTRATE: Hydroponic and coco substrate benefit greatly from enzymes, as these typically have few microorganisms that digest dead root matter. Our formula is compatible with all growing mediums.

PLANT ENZYMES REJUVENATE SOIL: If you are reusing a soil cultivation, Plant Enzymes acts as plant food that will rejuvenate the soil by breaking down roots from the previous plant.

LOW USAGE RATE: Our strong and highly concentrated enzymatic formula contains 7,000 units of active enzyme per milliliter, which results in a very low usage rate of only 1ml/gallon. Humboldts Secret Plant Enzymes is one of the strongest ones out there!
Sweet & Sticky is a source of carbohydrates, energy and microbe food that can be used on all indoor or outdoor plants and is effective in all mediums.
CARBOHYDRATE/SACCHARIDE ENERGY SOURCE: Our Sweet & Sticky formula contains a rich source of carbohydrates, energy, and microbe food that is suitable for organic soil and all indoor or outdoor plants and is effective in all mediums.

SUPPORTS THRIVING MICROBIAL LIFE:A thriving microbial life directly impacts your plants' most profitable features. Ensure your plants have all the energy they need by feeding them Sweet & Sticky.

FLAVOR, AROMA, AND ESSENTIAL OILS: Sweet & Sticky supports a thriving microbial population which in turn will aid in your plants natural ability to enhance natural flavor, aroma, and essential oils in all sorts of indoor and outdoor plants thanks to its abundant source of carbohydrates, saccharide energy, and microbe food.

​SUITABLE FOR HYDROPONIC, COCO, AND SOIL CULTIVATION: Sweet & Sticky is perfectly suited for multiple growing mediums, such as hydroponics and aquaponic systems, coco mixes, organic soil, and potting soil for indoor plants.

BETTER CROP YIELD: A high concentration of carbohydrates improves nutrient conditions for better crop yield and size. Our powerful formula also aids in the plant's natural ability to increase resin production during the flowering phase.
Tree Trunk is a potassium silicate based product which helps your plants natural ability to strengthen its cell walls.
PREMIUM POTASSIUM SILICATE-BASED PRODUCT: Tree Trunk features advanced nutrients that will help the plants natural ability to strengthen its cell walls, resulting in thicker stalks and better branch development, as well as abiotic stress tolerance!

PLANT STRENGTH: Watch your plants grow by applying Tree Trunk liquid fertilizer. Hydroponic nutrients make our product suitable as quality indoor plant food.

ABIOTIC STRESS TOLERANCE: Tree Trunk is needed to ensure yield stability under abiotic stress and minimizes the environmental impacts on crop production.

​COMPATIBLE IN ALL GROW MEDIUMS: This formula makes for an excellent indoor plant fertilizer suitable for all grow mediums. The usage rate is between 2.5-5ml/gallon (5ml is approx. 1 teaspoon) throughout the entire grow cycle.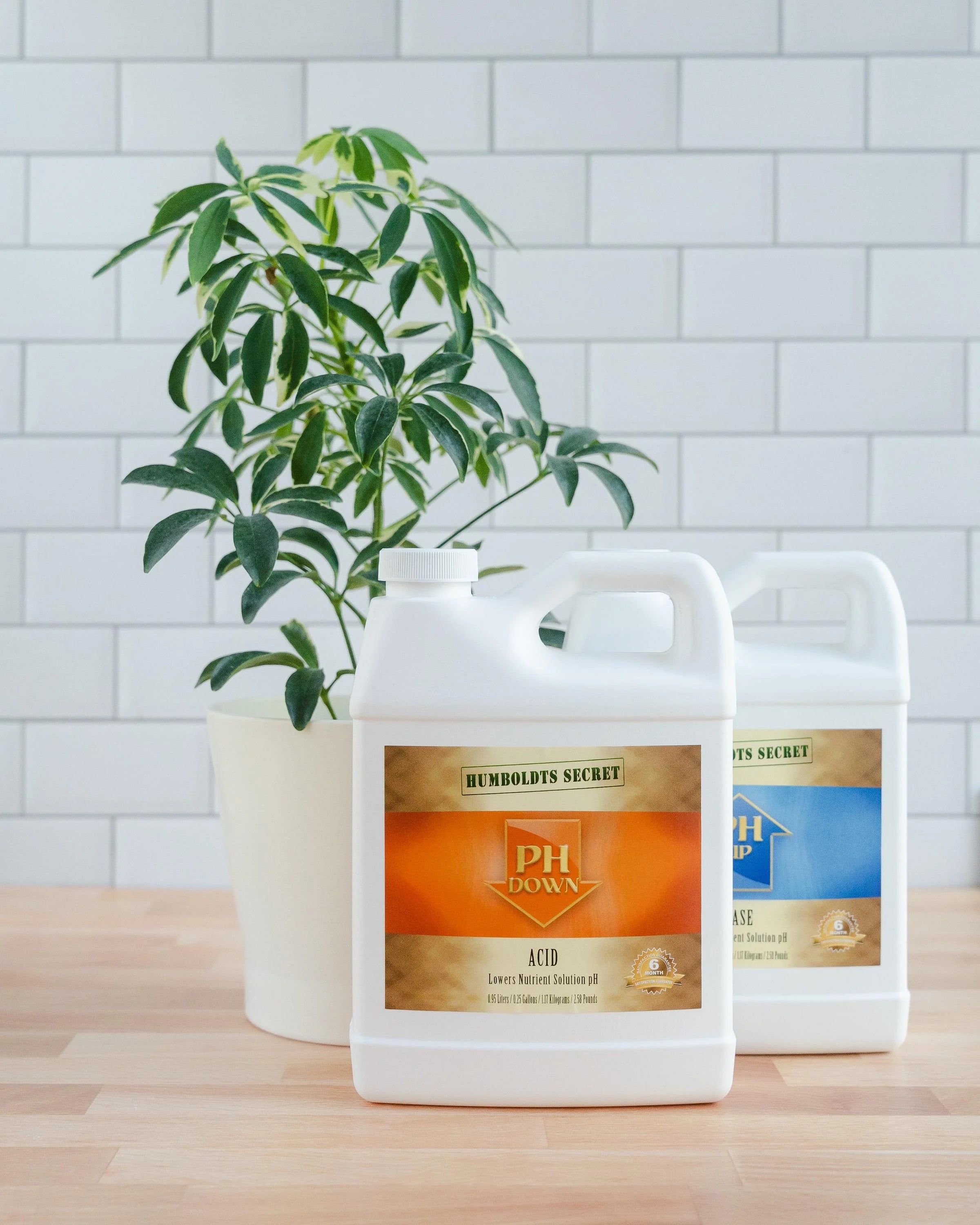 Humboldts Secret pH Up & Down creates a balanced and optimum pH to maximize nutrient uptake and helps your plants flourish.
COST SAVINGS: You need just a few drops of this concentrated solution for maximum effectiveness. Better output, with minimal increase in your gardening cost! Humboldts Secret pH Up & Down are stronger than some leading competitors, meaning a little goes a long way.

BALANCED NUTRIENT SOLUTION & OPTIMAL PH: Most plants enjoy a pH between 5.5 and 6.5. Our pH Down is made with high-quality commercial-grade phosphoric acid and our pH Up is made with commercial-grade, water soluble potassium hydroxide. Both are 100% dye-free and additives-free, so it's ideal for your beloved botanicals. To use, simply test your nutrient solution with a digital pH meter or pH tester strips, then balance your nutrient solution by using a few drops at a time of pH Down.

EXPERT MADE: Humboldts Secret products are designed by Growers for Growers. Achieve reliable results from our high quality pH Down made with the finest ingredients and proudly manufactured in our California based facility.
Don't wait, this offer wont last!
Ready to level up your game?
Statement
Ready to rev up your plant care routine? Take advantage of this special offer today! This powerhouse collection of products are meticulously crafted to meet all your plants' nutritional needs, ensuring robust growth, vibrant foliage, and blossoming blooms. Say goodbye to guesswork and unlock the secret to a truly flourishing garden.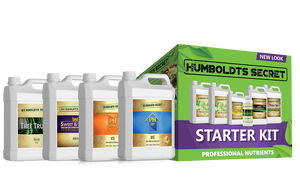 Check Your Email For Your Unique Discount Code to Use at Checkout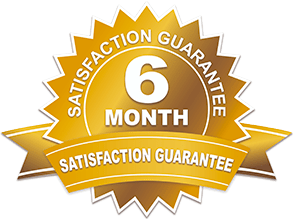 We are confident that you will be pleased with your product and offer a 6 month 100% satisfaction guarantee.
Refer to our return policy for full terms for the satisfaction guarantee.
Don't just take our word for it..
Rated by hundreds of happy growers

Very pleased with this product. I had been using House and Garden but had been getting weird deficiencies due to product inconsistencies. Since switching over to Humboldts Secret I have had zero issues with any sort of deficiency in my plants. Second time using this product. One of the best on the market!

Really like this product a lot but still trying to figure out why it says you don't have to flush.... I decided just to flush it anyway and the results have been fantastic!!!

Ive been using this product line for few years now and i have to say...... It is a must for a wide variety of household and outdoor plants. All my plants are thriving

Using these so far is working awesome.

Nothing on the market can beat the results that you get with Humboldt! Undeniably the best out there! The instructions make it foolproof. Even beginners can use this no problems.

Humboldt is the best stuff we've ever used!! Amazing results!! Best prices, and super fast shipping

No issues. Perfect the whole way form seed to harvest

This product has exceeded my expectations. I went to college in Humboldt and wanted to try this out. During the vegetative stage my plants grew fast and leafy. Once it was time for my plants to bud they were on steroids! If you want your plants to be healthy and produce... use this product. I have personally recommended it to all my friends with a green thumb.
Don't wait, this offer wont last!
Grow bigger plants in less time without struggle!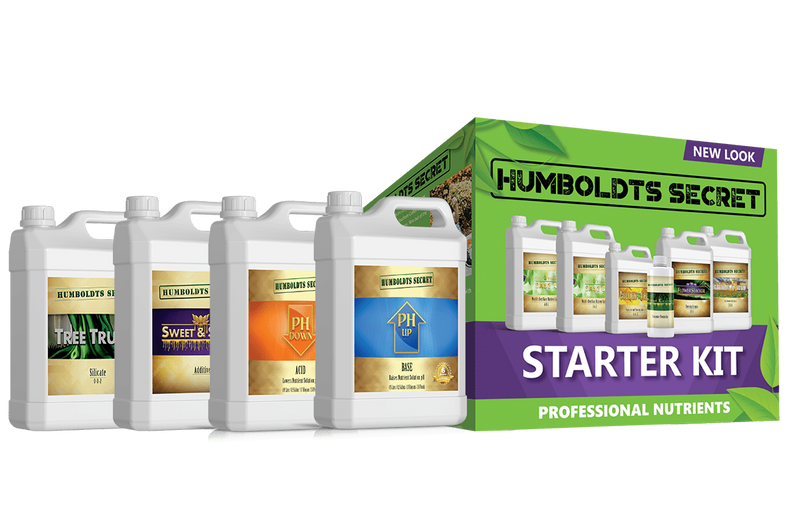 This Special Kit Includes:
World's Best Base Nutrient System Grow & Bloom Base A and B (1/4 Gallon of Each) - $36.98
Golden Tree (1/8 Gallon) - $50.00
Flower Stacker (1/4 Gallon) - $26.98
CalMag & Iron (1/4 Gallon) - $17.98
​Plant Enzymes (8 Ounce) - $34.98
​Sweet & Sticky (1/4 Gallon) - $26.97
​Tree Trunk (1/4 Gallon) - $24.98
pH Down (1/4 Gallon) - $17.99
​pH Up (1/4 Gallon) - $18.99
Check Your Email For Your Unique Discount Code to Use at Checkout