Product Information
Golden Tree
The Golden Tree simplifies the number of products your
garden needs and makes the process of growing and maintaining healthy, thriving plants simpler than ever before.
Golden Tree is an all-in-one hydroponic garden nutrient solution for any plant, flower, tree, or bush. Golden Tree works especially well alongside a well-balanced fertilizer to improve soil/foliar nutrient quality, giving you better crop yields. By bettering the soil quality, the solution will also create better conditions for plants to establish themselves and improve their abiotic stress tolerance and nutrient intake.
Our Golden Tree all purpose liquid plant food designed to work in all mediums including hydroponics, aeroponics, coco, DWC, and soil. It'll give your garden all the nutrients it needs to flourish and is incredibly easy to use. As our most popular formula, Golden Tree contains a combination of kelp, carbs and
minerals. Every 2 ounces makes up to 55 gallons of additive, giving you incredible value no matter what size you buy. And the best part is you can enjoy these benefits no matter what growing method you're using.
Order our Golden Tree today and get growing!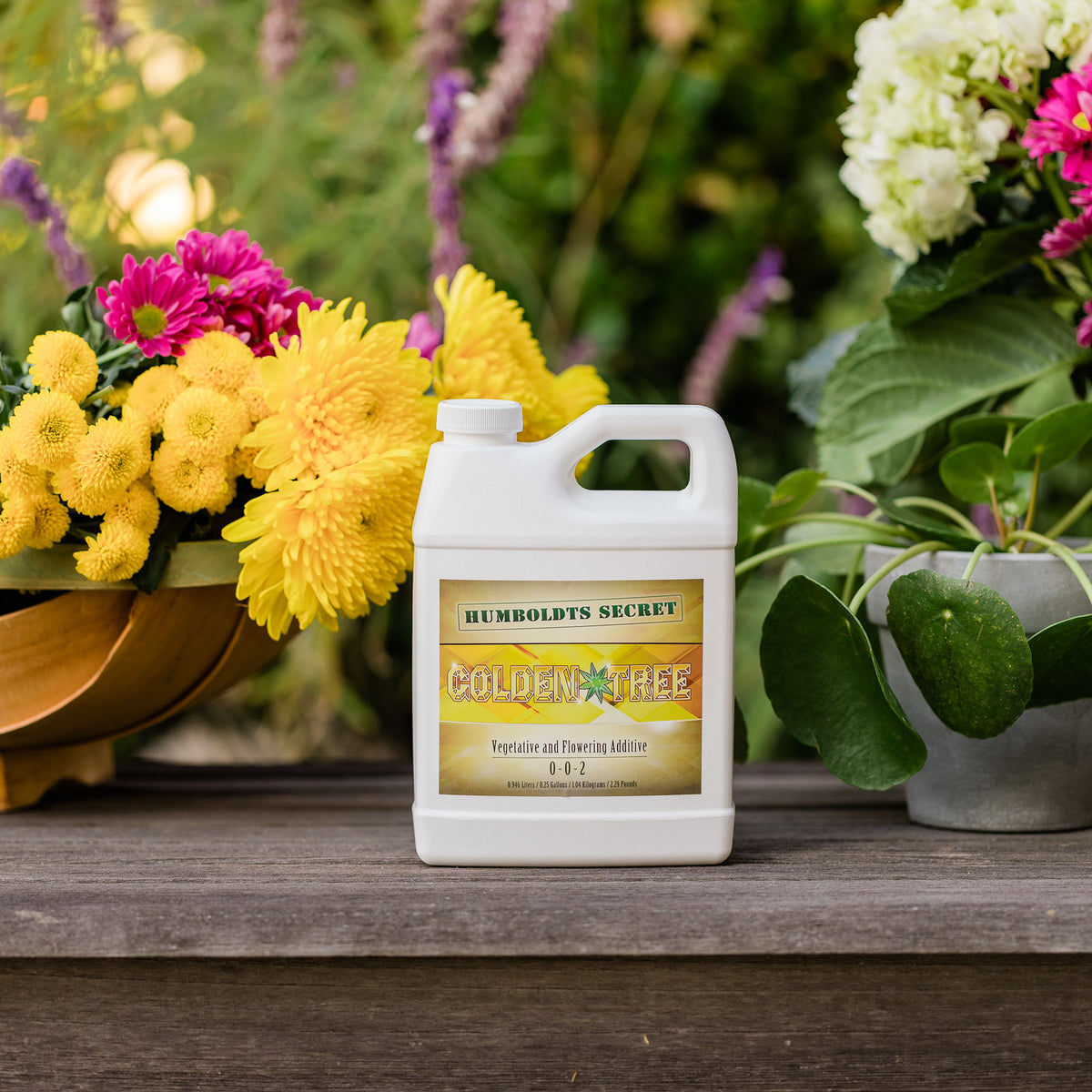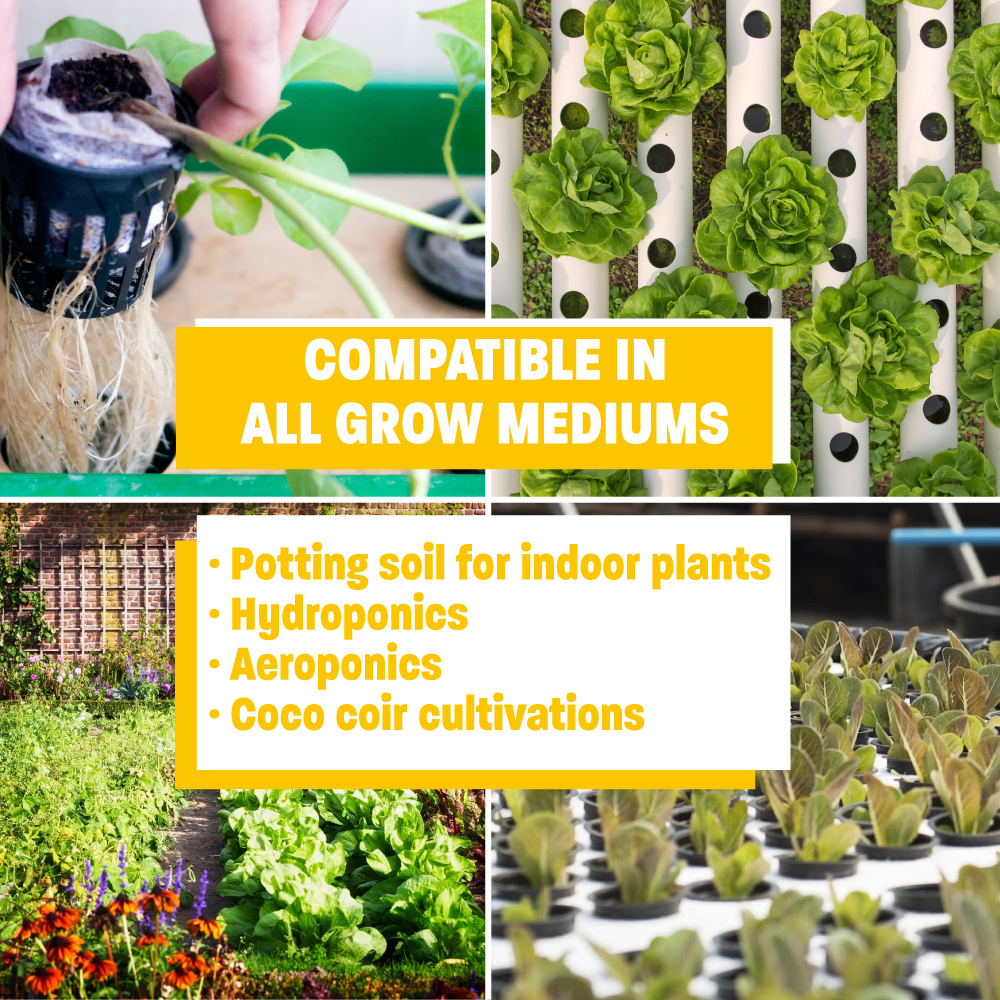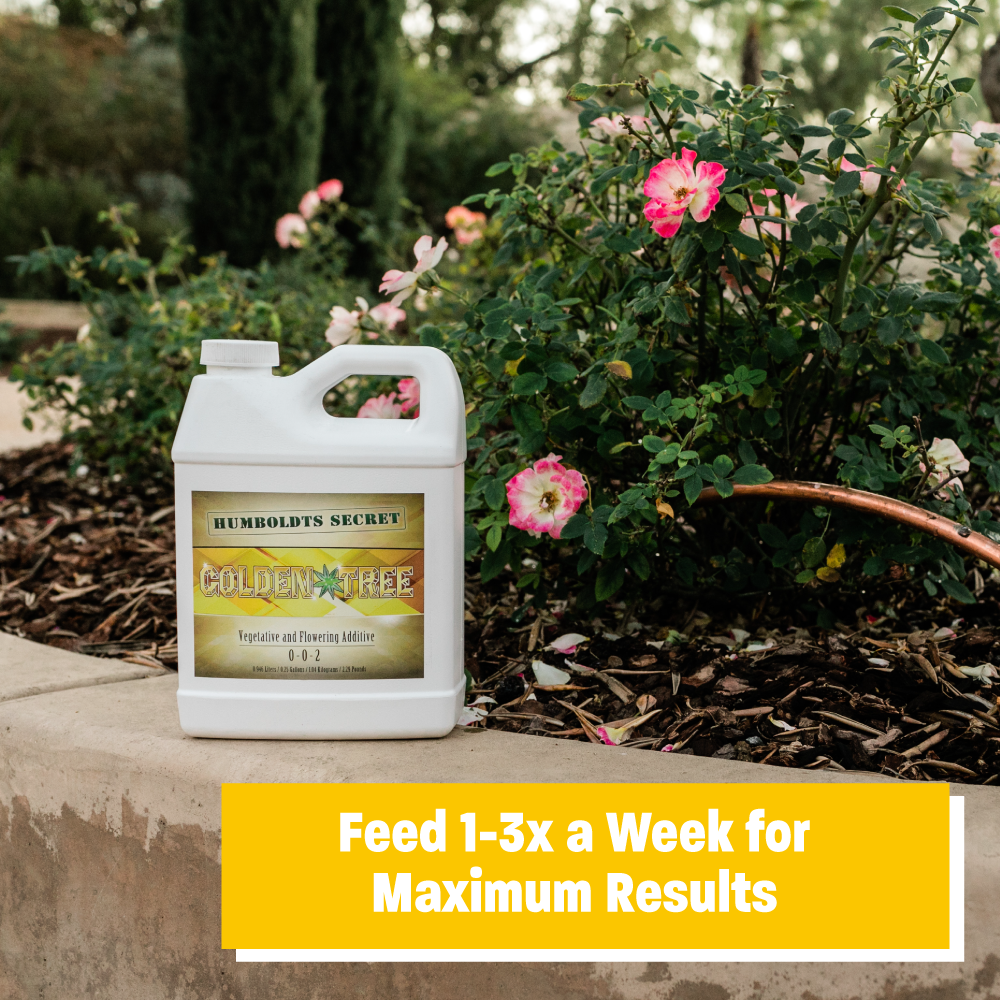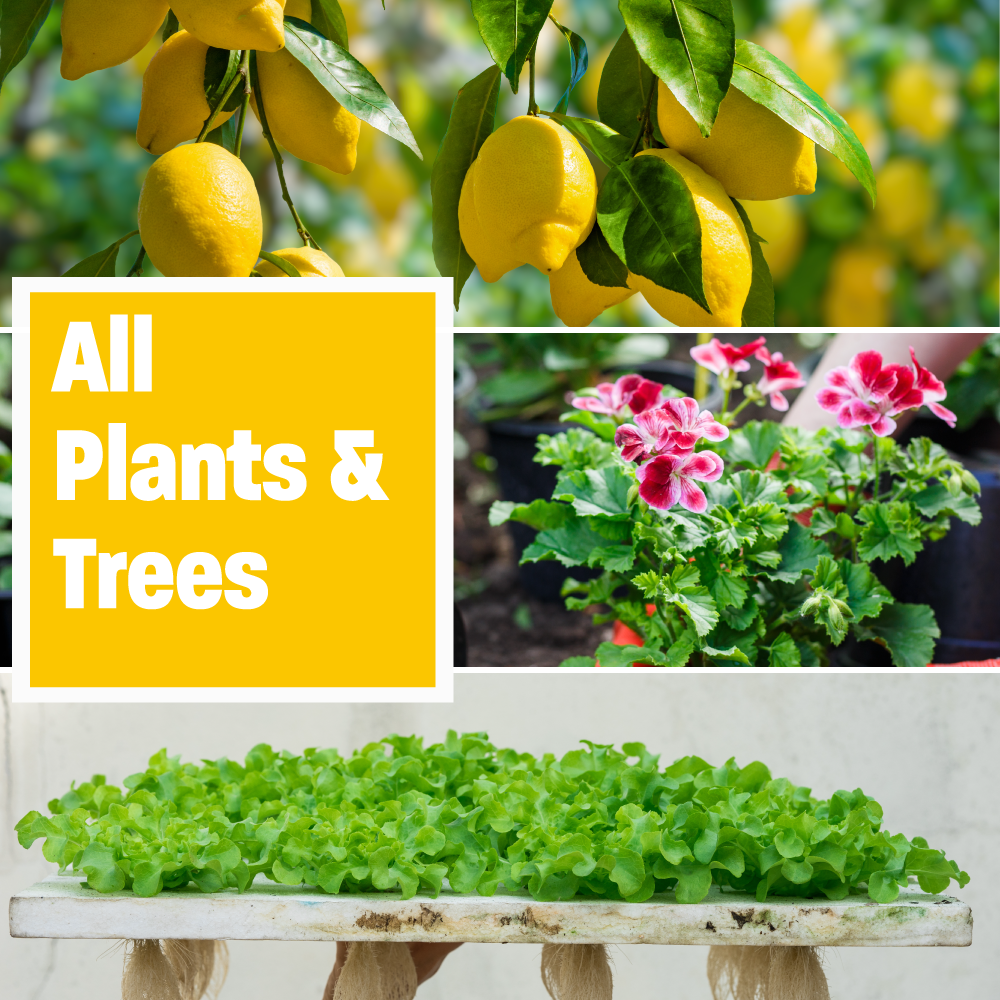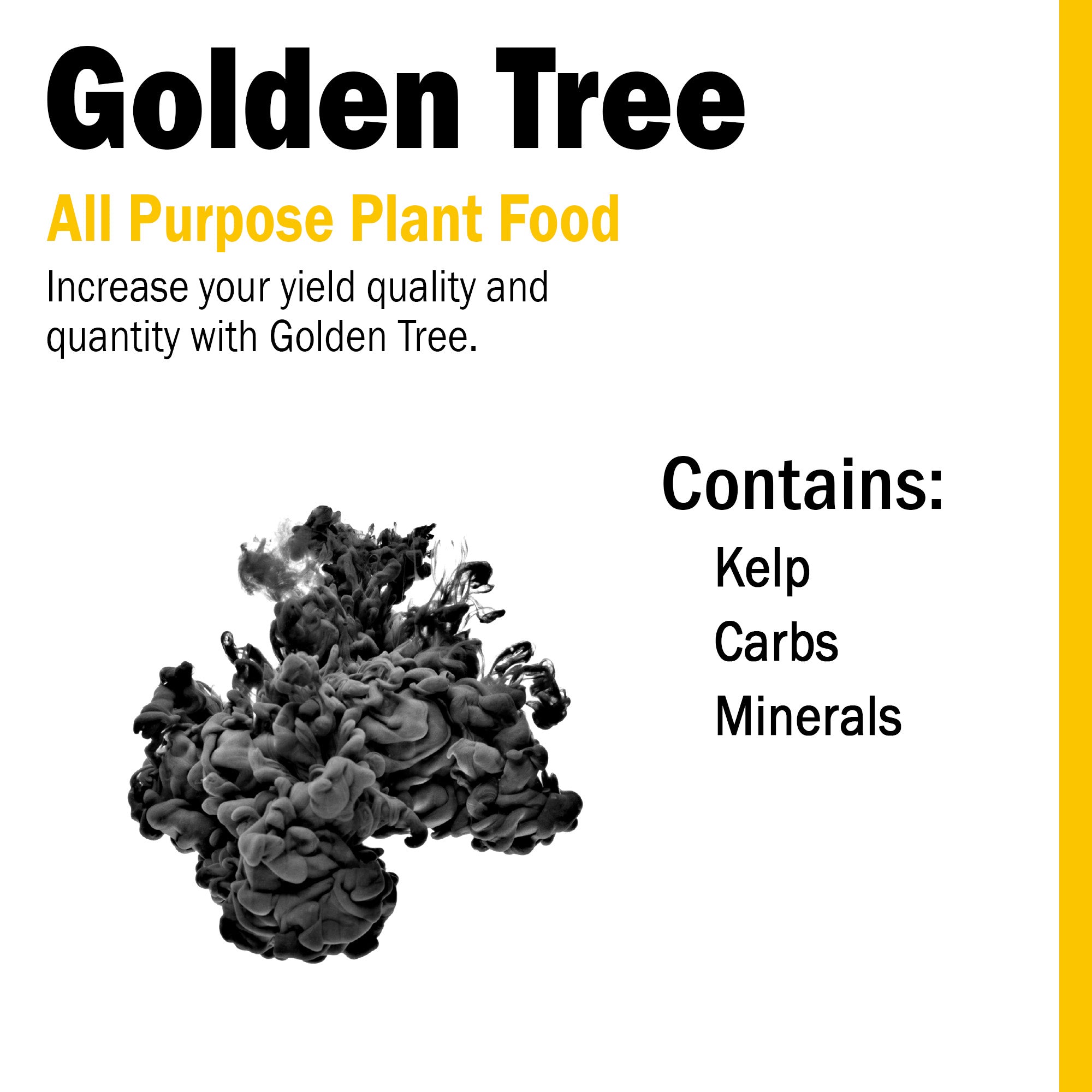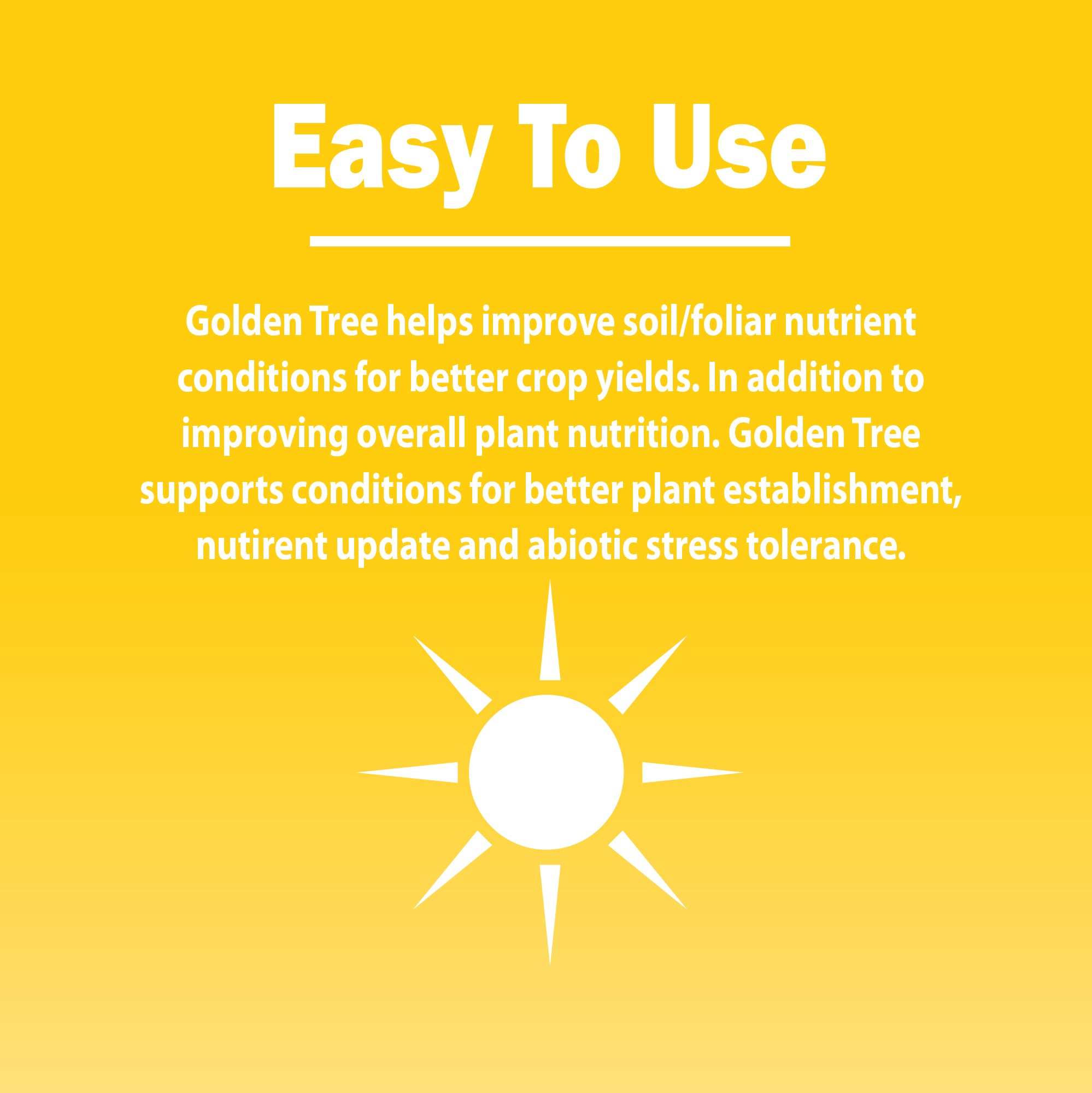 Golden Tree

Feed Chart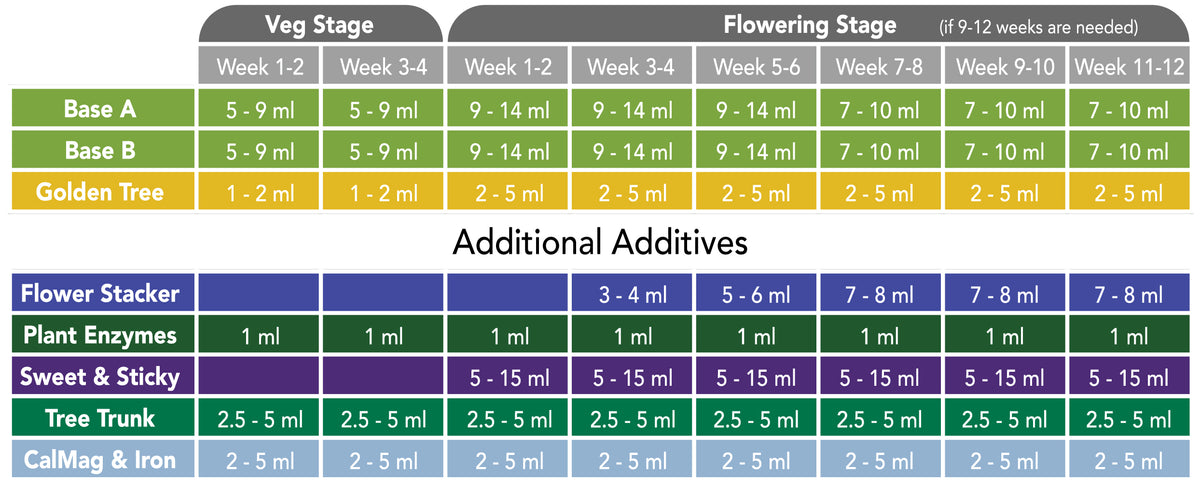 Mixing Procedure
1) Fill your reservoir with water.  It may be filtered or tap water.  If you use filtered water you may need to add some CalMag & Iron.
2) Add HUMBOLDTS SECRET NUTRIENTS listed on the feed chart (Shake each bottle a little bit)
3) After you add your nutrients, adjust the PH so that your end mixture in your reservoir is between 5.5 and 6.5 (If needed.)
4) Can be used in Soil, Coco, Deep Water Culture (DWC) and Aeroponics.  Typically less nutrients are used in DWC. If you grow in Hydroponics it is recommended that you use  Golden Tree at a lower dose and use Plant Enzymes. We suggest you play around with the amounts of each nutrient and find out what works best for your setup as there are many variations to growing.
Additional Information
1) In order to have a successful grow growers should use at minimum Base A, Base  B & Golden Tree. 
2) For Veg: Add 1-2ml of Golden Tree per gallon to your reservoir. Then, add your base nutrient until PPM levels of the reservoir mixture reaches between 800-1000 (Hanna Scale)
For Flower: Add 2-5ml of Golden Tree, then add base nutrient into your reservoir  until your PPM levels of the reservoir mixture reaches between 1000-1300 (Hanna Scale, which is 2.0-2.6 in EC.) Remember that this is a rough estimate. Strains and growing mediums vary, some will enjoy higher PPM's and some lower.  Flushing at the end is not necessary.
Shake bottle and measure out 2-5mL per gallon of water.
Dilute Golden Tree into a full watering can or reservoir and stir to thoroughly mix.
Feed to the base of your plant, or use as a foliar spray. For optimal results, feed Golden Tree 1-3 times a week throughout your entire growing season.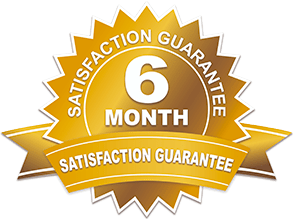 We are confident that you will be pleased with your product and offer a 6 month 100% satisfaction guarantee.
Refer to our return policy for full terms for the satisfaction guarantee.
Frequently Asked Questions
We firmly believe that all you need to succeed is Base A+B and Golden Tree (if you need CalMag because of your particular setup, then this will still be needed). Our additional additives are optional, and we provide them as a resource for use at individual growers discretion
For soil and most mediums you should follow the label directions; between 2-5ml/gallon. In hydroponics setups like DWC and Aeroponics, you should use half dosage.
Yes! Although you will find you do not need to. Just keep in mind Golden Tree is a very concentrated product so make sure you are not overwhelming your plants.
We are no longer producing Golden Tree 0-0-2.25, but have the same
formula under Golden Tree 0-0-2.
You do not, but it is recommended to have these nutes in your growing
system. You can use Base A & B with every watering or every other
watering, but do not exceed more than 3x per week when using Golden
Tree.
We sell products individually so that every customer can customize
their order to the sizes they need. However, we do offer them in our
Starter Kits.
Don't just take our word for it..
Rated by hundreds of happy growers

This is my first experience with this product, I added a few drops of this to my Tomato Hydroponic setup, I noticed the yields went up significantly this year. I then used this on my eggplants (in soil) and noticed the same result. It does work but be careful, I poured a couple of extra drops and my cucumber plants were burnt. Do not exceed the limits prescribed.

REALLY like this product, and even better, my plants do! It took healthy plants and made them a lush green, perky and put them into high gear.

I don't know what kind of sorcery this is but used this on my dying fiddle leaf and a few days later news leaves started sprouting out like crazy

I used this last Spring on my roses and a Japanese Coral Maple Tree and the results were incredible - my maple tree was about 14" tall when I repotted it and by the end of the summer it grew to about 4 feet tall and my tiny rose bushes bloomed well into Fall
Grow bigger plants in less time without struggle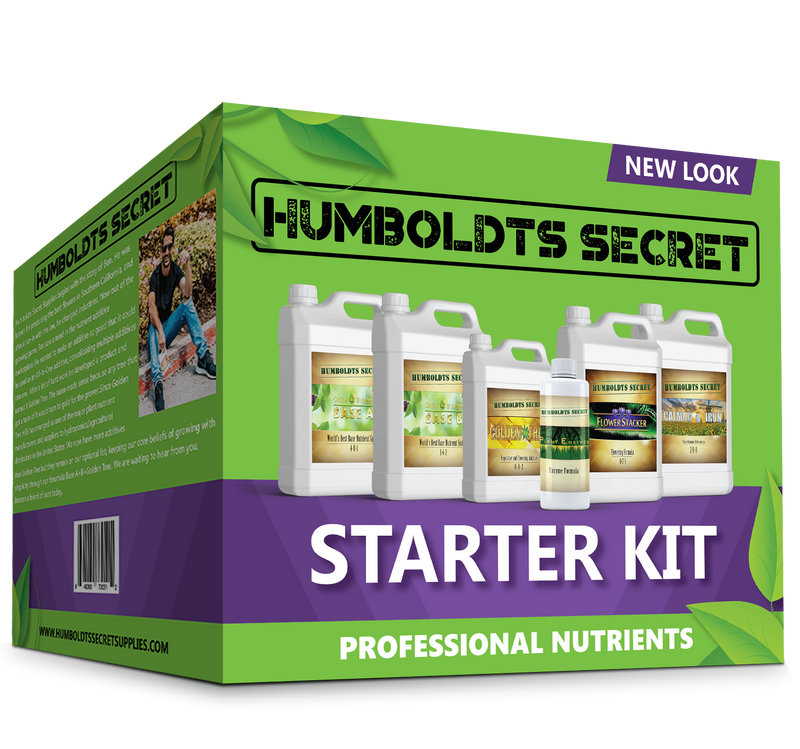 Get the Startaer Kit for only $170.77 $99.99
Each Starter Kit Includes:
World's Best Base Nutrient System Grow & Bloom Base A and B (1/4 Gallon of Each)
Golden Tree (1/8 Gallon)
Flower Stacker (1/4 Gallon)
CalMag & Iron (1/4 Gallon)
Plant Enzymes (8 Ounces)